By Sarah Beeson MBE and Amy Beeson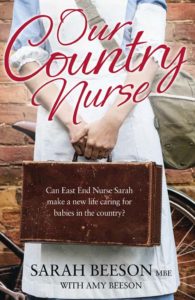 All seems tranquil as newly qualified health visitor Sarah Hill motors into a small Kentish hilltop village on a sunny afternoon in 1975. She's barely out of the car when she's called to assist the midwife with a bride who's gone into labour in the middle of her own wedding reception.
Village life isn't always quite the Good Life Sarah's been expecting – and will it be the clergyman, the vet or the young doctor who wins her heart?
During her first year as a nurse in Kent, Sarah gets stuck in – reuniting families and helping mums in the midst of a community full of ancient feuds, funny little ways and just a bit of magic.
Published by Harper Element on 25 August in paperback at £8.99, eBook £6.49 and audiobook £12.99.
Sarah Beeson's third book written with her daughter Amy Beeson is inspired by her first years as a health visitor in rural England.
SHOP PAPERBACK
SHOP EBOOK
SHOP AUDIOBOOK READ BY ANNA BENTINCK
Order a signed 1st edition
I'm so looking forward to sharing this story of life as a young nurse and health visitor with the readers of The New Arrival and Happy Baby, Happy Family as much of my knowledge was learnt from the wonderful mothers and health visitors I worked with in the early days of my career.
Order a signed copy of my book by emailing me and I can include a personal message to make it a really special gift.
MORE ABOUT OUR COUNTRY NURSE
Sarah Beeson's second memoir takes us back to 1975 in the hilltop village of Totley somewhere near Malling and Maidstone in Kent. She creates a very real community in the epicentre of a changing Britain.
As a newly qualified twenty-something health visitor, Sarah is flung in at the deep end and discovers just what mums are made of. Told lucidly like Beeson is sitting in the armchair next to you, this nostalgic story will have you laughing one minute and in tears the next. The mother-daughter writing team (Sarah and Amy Beeson) have created a world that shows the depths and heroism of ordinary women in extraordinary circumstances that could be any of us in daily battles with husbands, family and society.
Sarah is fighting for the families she visits from the mysterious gypsies to the exploited Filipinos working for the Lady of the Manor, not just for their physical and mental health but against the casual prejudices, snobberies and social injustices thrust upon the women on her patch.
She remains warm, touching and yet surprisingly unsentimental. We see first-hand that Sarah Beeson's passion for health visiting and to help people has been constant from the beginning of her career to the work she does with families today.
A beautifully written book which captures a golden era of the NHS in rural England. Full to the brim of moving, funny and compassionate memories in a time of huge political change and government instability with the nation in the grip of rock and roll, platform heels and ready meals. It's like Call The Midwife meets The Good Life. You will not want to put this book down – enjoy every single page.
Please contact us to arrange exclusive pre-release events or pre-order a signed copy.