By Amy Beeson
Being a working mum I don't get to indulge my inner bookworm as much as I'd like, but I made reading The Story of Fester Cat by Paul Magrs a priority over the summer and it was an absolute joy.
I was lucky enough to be an Undergraduate at UEA when author Paul Magrs ran the Creative Writing course there. He is one of the contemporary writers I most admire so I was absolutely thrilled to be sent the manuscript of this memoir with a twist and I wasn't disappointed.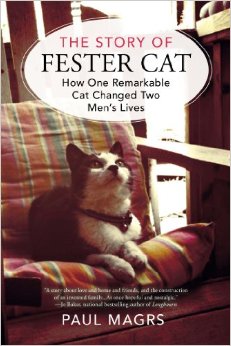 The story is told by Fester, a toothless stray moggy who adopts Paul and his partner Jeremy. The opportunity to be, not a fly on the wall, but a cat in the lap, in this literary suburban home in Levenshulme had my neglected bibliophile purring like a kitten.
I took to reading it in the garden while my daughter played and our own cats stretched out in a shady spot, because seeing the world through Fester's eyes reminded me how much pleasure there is to be had at home. I might have even given my cat the odd nibble of smoked salmon and a few more tickles in the special spot under the chin – Fester made me want to be a better person and cat owner.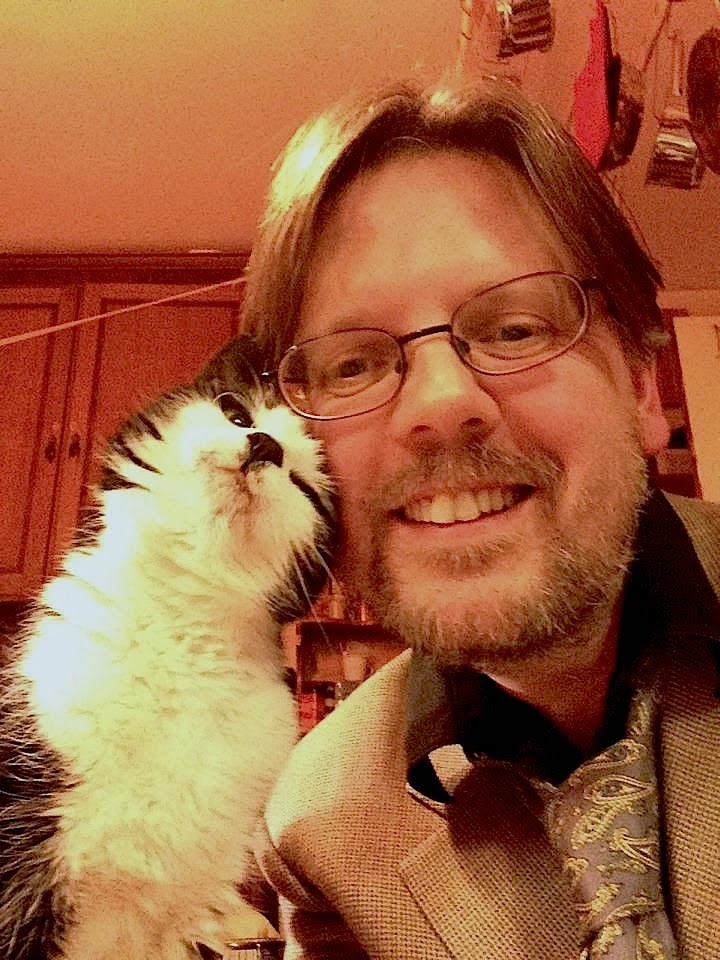 Fester Cat and Paul Magrs
When Fester is taken to Mr Joe at the hairdressers (the vets) to be put to sleep he takes us back through his wondrous life with Paul and Jeremy and the tidbits of tales he has heard of their goings-on Pre-Fester Cat; they are a pair of dafties but he loves them. And I came to love them too, I especially enjoyed the tale of how they met in the cavernous disco at CC Blooms in Edinburgh and discovered that only a few hours earlier by some cosmic coincidence, Jeremy had by pure chance bought Paul's first novel, only later to reveal he found in the bargain bin at Waterstones just six months after it'd been published!
The tenderness of this book nearly made me cry so many times, not because the cat was going to die but because this genius memoir is filled with a hundred small acts of kindness and love. Just like in his brilliant Brenda and Effie Mysteries, Paul Magrs takes the neglected creatures barely existing in the margins and cherishes them – turning them into heroes who show us what it is to be human.
I felt like I was part of Fester's household; one of the guests at the feasts they host for friends with 1970s pop in the background; round the kitchen table playing board games at Christmas with a Smörgåsbord laid out; reading in the autumn sun with a scarf round my neck and a cup of hot coffee, lapping up a good mystery book; or best of all sitting on the sofa in the beach house wishing there was a spot for me to write along with them.
And talking of the beach house here's a real treat for you…My little book worm, Ava, suggested Paul read from his new book Jackanory style from his writing hut. So put the kettle on and enjoy the Paul Magrs reading The Story of Fester Cat.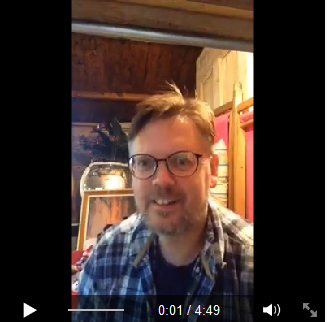 The Story of Fester Cat is available for pre-order on Kindle and in Paperback on Amazon. (Out 4 November 2014)
Amy Beeson co-wrote The New Arrival with her mum Sarah Beeson MBE and runs Wordsby Communications. She works one-to-one with clients to share her creative know-how.