By Amy Beeson
Quite a few of my friends and associates from different background are also Coaches. Although they're incredibly supportive and insightful to talk to, they also don't pull their punches from pointing out if the person who is holding me back from something is actually me.
When Mumsnet Babyfest connected us with Barefoot Coaching and suggested we check out their Coaching Cards for New Parents I messaged Coaching Friends to ask if they'd come across them. The resounding answer was "Yes, they're amazing. I trained with them." And I'm not a girl who asks for professionals opinions and then ignores them.
kindred spirits

My mum and writing partner
(Sarah Beeson MBE
) and I were invited to a getting to know you breakfast with Kim Morgan the writer of
Coaching Cards for New Parents
and one the UK's most esteemed business and personal coaches and her daughter Saira Aspinall who is the Marketing Director of Barefoot Coaching. When we met it was like we were old friends within minutes because we had so much in common on parenting, being working mums and mother and daughter teams. There was a lot of nodding, animated conversation and women's laughter in the middle of the dining room of a central London hotel that morning.
Saira and I both have a background in marketing and publishing and are trying to balance the whole being good at my job and at being a good mum thing, and confessed that both of our mums' (Sarah & Kim) were our 24/7 hotline to letting go of mummy guilt.
Kim and Sarah discovered they'd both been greatly influenced by Dr Mia Kellmer Pringle's work on the emotional needs of children which shaped Sarah's research for our parenting book Happy Baby, Happy Family. Kellmer Pringle is also a character in Our Country Nurse.
We left with an advanced pack of Barefoot Coaching Cards For New Parents to take home and play with and couldn't wait to see what each of the 50 cards within the pack suggested. Saira and Kim were invited to our launch party for our new book Our Country Nurse and it was great to spend more time with them there.
sarah beeson gives thumbs up for new parents coaching cards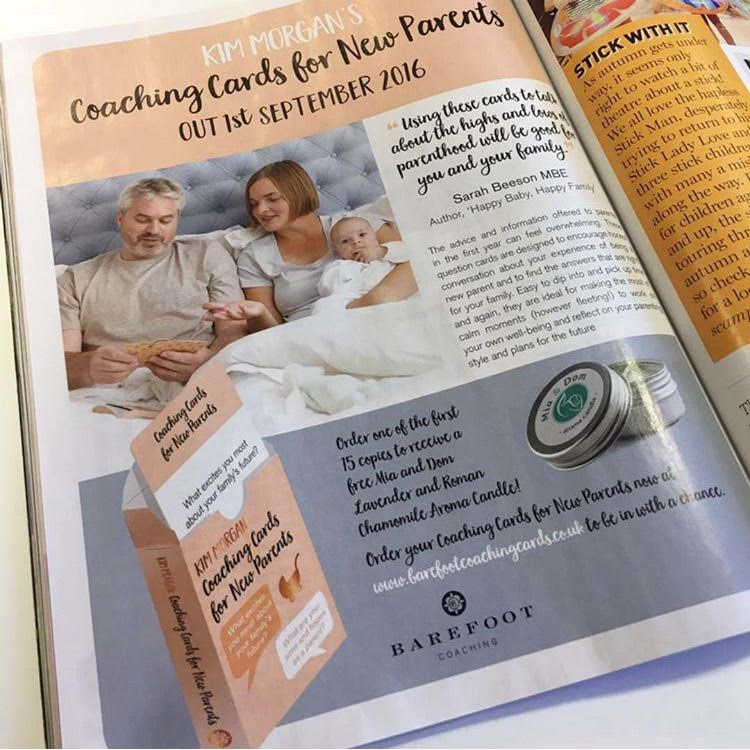 Sarah and I looked at every card and picked out the top ten cards that resonated with us the most. We came to the conclusion that opportunities for romance may be few and far between with a new baby but trying to be kind to each other and not loosing sight that you're a partnership as well as parents benefits everyone.
Parents could use Kim Morgan's Coaching Cards to give themselves time and space to talk about their lives and share all the lovely moments being a new parent has brought so far. They could also be a tool to start a discussion on any issues you're experiencing such as feelings of guilt and self-criticism or feeling under valued by your partner. You might pre-select a card or pick one at random and see where the conversation takes you.
Picking a calm moment and card or two to have an open and kind conversation about your thoughts and feelings since you've becoming parents and actively listening to your partner will help you to appreciate how much you've already grown as a family.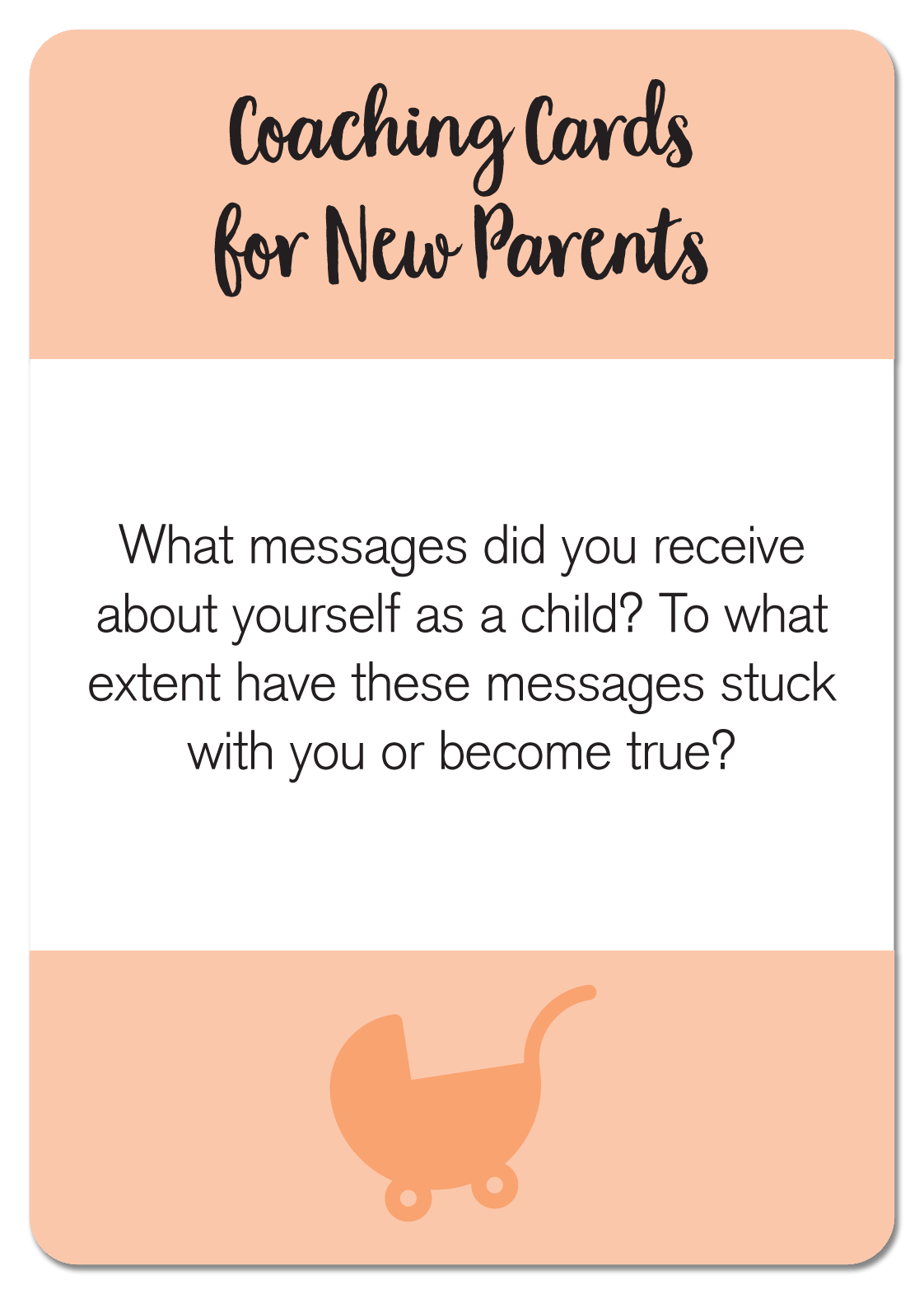 Sarah's favourite coaching card in the pack said, 'What messages did you receive about yourself as a child? To what extent have these messages stuck with you or become true?' It's definitely a theme that runs through our parenting advice and novels. We gave away one of these cards to every reader who came to our book launches for Our Country Nurse and they agreed whoever you are, this question opens up discussion about your past, present and future.
ASK YOUR PARTNER TO PICK A card


One evening I got our the pack of Coaching Cards and my husband Takbir and I took turns to pick one each at random. It did give me a opporutnity to talk about some issues I'd been bottling up but also it was good to listen to him. To consider how our very different childhoods are influencing our behaviour as parents and how our greatest strength is working together as a team.
It being the school holidays our daughter Ava had less strict bedtimes and soon wandered into our conversation. She took a turn to pick a card too and asked us questions and answered them herself about her own experiences. As a family it was a lovely way to spend some time together and I noticed we were all very present in the moment. All the devices were turned off and it was nice to have an open discussion about our lives and share in our happiest memories.
great gift for new parents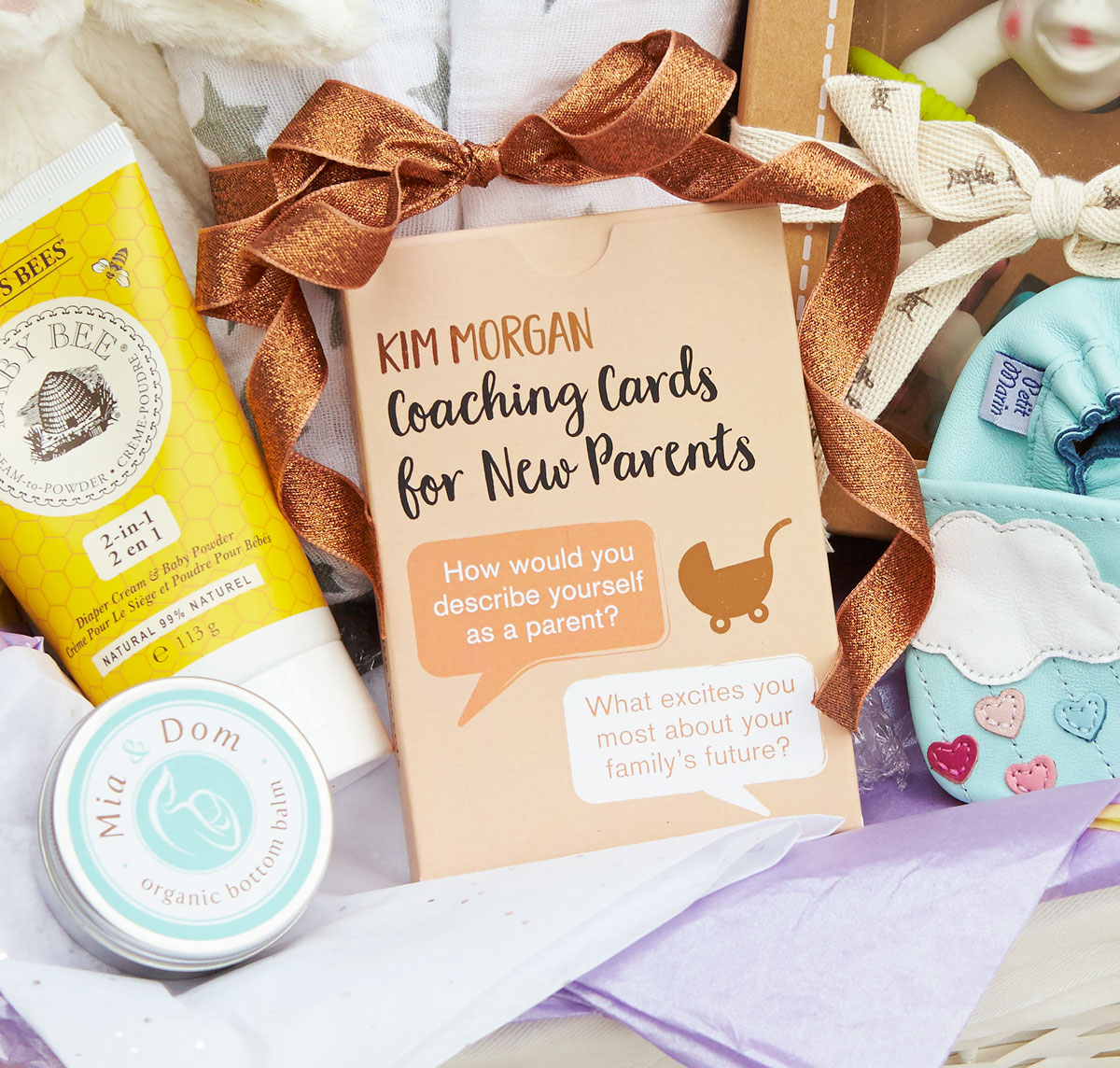 Kim asked Sarah if she'd endorse the coaching cards which she did gladly. If you pick up a pack this is the quote you'll see on the back.
"Using these cards to talk about the highs and lows of parenthood will be good for you and your family."
Sarah Beeson MBE, author of Happy Baby, Happy Family
Coaching Cards are designed to make honest, open conversation between new parents easier. They can be dipped into time and again, the cards can be used throughout the first year of parenthood and beyond into the toddler years. Easy to pick up and use, they make a great new baby gift if you're shopping for a present for new parents or mums to be.
ABOUT BAREFOOT COACHING CARDS FOR NEW PARENTS
Coaching Cards for New Parents by Kim Morgan are available to Buy on Amazon. You can get more information on Barefoot's Coaching Cards range at Barefootcoachingcards.co.uk and follow them on Twitter and Instagram @barefootcoachingcards.