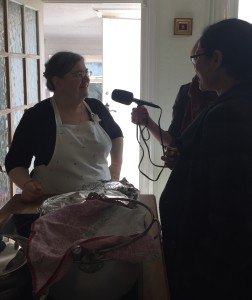 Recipes by Sarah Beeson MBE author, baby expert, health visitor and family cook.
I served up this dish for my son-in-law's family on Easter Monday; everyone came back for seconds even Sharmini and Hannah from BBC Radio 4 who spent the day with us. We then had an unexpected visitor on Wednesday night and I made it again but I didn't have any chickpeas so I used mushrooms instead and made some dhal and rice – always a family favourite.
Ingredients
A pack of chicken style diced quorn pieces
1 tin of chickpeas (or a small punet of mushrooms if you prefer)
1 large onion
6 teaspoons of medium curry powder mixed into a paste with 3oz of water
2 gloves of garlic
1 small chilli
1 chopped tomato
A thumb-sized piece of ginger
3 tablespoons of sunflower or vegetable oil
2 desert spoons of creme fraiche
Method
Start by heating the oil in a large saucepan and cook finely diced onion on a medium heat for about five minutes
Add the crushed garlic and ginger to the pan and cook down for a few minutes
Add finely chopped chilli and curry paste, stirring to prevent burning for 2-3 minutes until the curry spices have been cooked out
Add quorn pieces, coating them well with the curry mixture. If it looks a little dry add a touch of water
Cover with lid and simmer for ten minutes
Stir in chopped tomato
Drain chickpeas of liquid and add to the curry replace lid and cook for about 5 more minutes
Season to taste
Stir in the creme fraiche
Served with basmati rice or chapatis or roasted potatoes. A nice salad, raita, dhal and mango chutney are lovely fresh accompaniments to this dish.
I hope you enjoy this dish, as soon as I get a photo of it, I will get Amy to add it to the page. If you make it do let us know Tweet @NewArrivalBook or Facebook us.