Like most of London on Munday Thursday we wanted to do the big Easter Weekend Getaway but first we had to do a quick TV interview with Good Morning Britain on shared parental leave.
LO insisted we wear our matching Poppy England Forest dresses for the cameras.
My husband, Takbir and I were interviewed in the kitchen. LO took this photo – not the most flattering angle. Thanks kid!
The three of us had a quick game of alphabet cards, like you do before a hectic packing session. LO didn't bat an eyelid about being in front of the TV cameras but then she did feature on Location Location Location when she was ten months old and wasn't a smidge of trouble. Packing done, at last we were off in a northerly direction to Staffordshire to my mum, Sarah Beeson for a bit of much-needed family time.
Good Friday was a bit of a wash out. But my mum being the lovely mama she is took LO in the morning and let us have a lie-in. She even brought us breakfast in bed. On Saturday Sarah hosted a lovely lunch for our friends and their gorgeous new baby. I was so pleased to see them using the Faye & Lou rainbow muslins we bought for their new arrival. It made me rather broody.
On Easter Sunday LO was thrilled to wear her new Poppy England boat dress, white cardigan and yellow petticoat for the first time.
She really loves swishing around in her new petticoat. And she does rather like to jump up and down on her Grandma's bed (under supervision). It's quite nostalgic for me to see her lying on the quilt my own Granny made.
I thought she might be shy of the lovely ladies from BBC Radio 4 who joined us for our family interfaith celebrations but she was chatting to them happily as soon as they arrived. Going to Broadcasting House for radio interviews with Harriet Scott and Robert Elms on BBC London, BBC Radio Stoke and Hackney Radio stations last year with Mummy and Grandma when The New Arrival came out means she takes TV cameras and radio mics in her stride.
My husband's family arrived for our annual Easter Egg Hunt and lunch. My lovely sister-in-law Nazia even brought these Easter Cupcakes. She's so clever and is another mumpreneur and runs Cocoas Cupcakes in Birmingham
Nazia even made these homemade personalised golden Easter Eggs for all the children. How's that for creativity at interfaith family celebrations!
I was amazed at how easily Sarah talked about our family to BBC Radio 4 producer and presenter whilst preparing the lunch. She looks so at home in her country cottage kitchen in her Poppy England apron we gave her for christmas. I can feeling some weaning advice and recipe videos will be needed when her next book Happy Baby, Happy Family comes out.
LO and her cousins love, love, love our annual Easter Egg Hunt. It just fills you with such joy to see them enjoying themselves and being together as a family.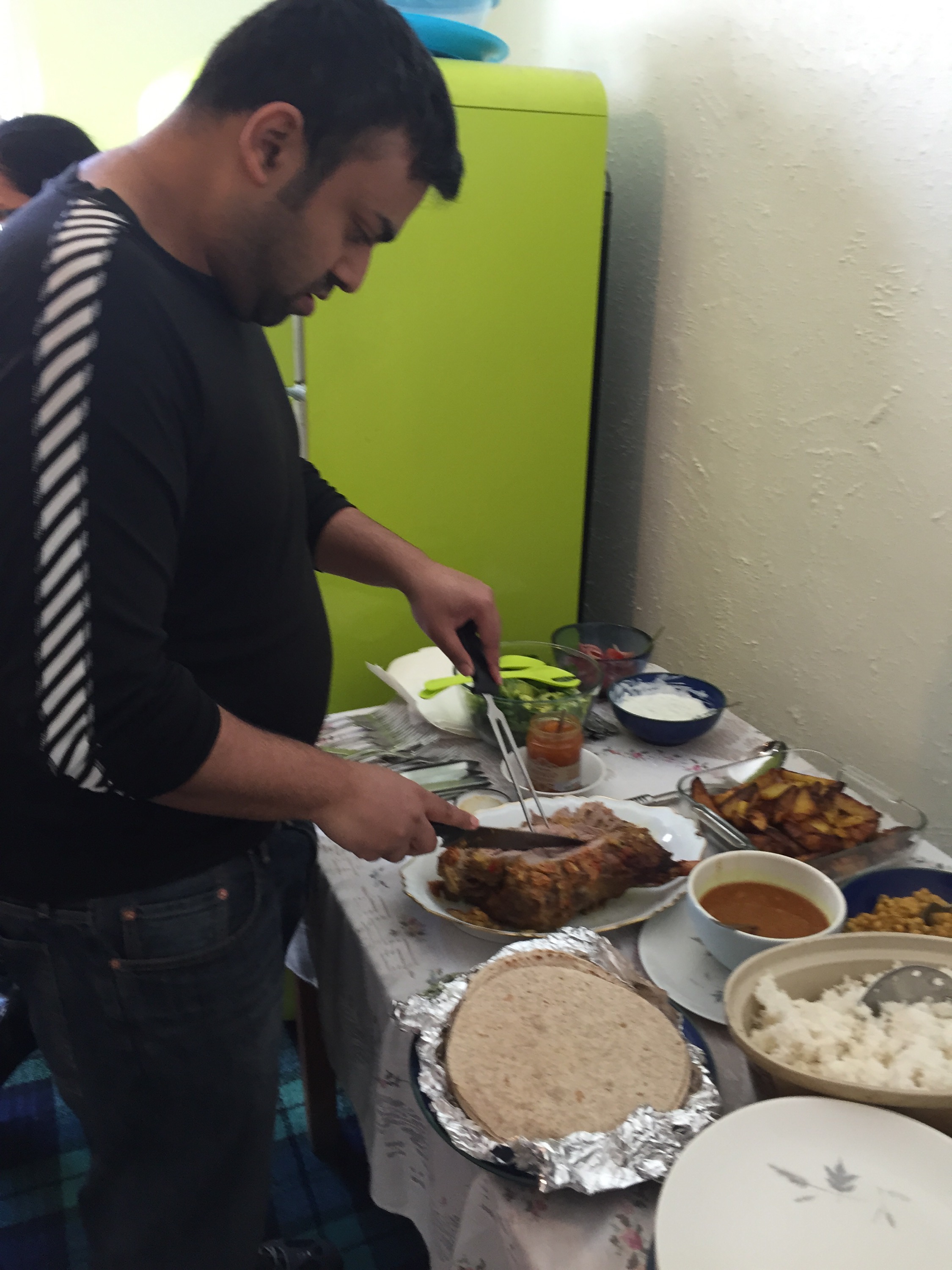 Takbir prepared halal lamb for Easter Monday lunch. My mum served up chapatis, riata, quorn and chickpea curry, salad, spiced potatoes and rice followed by a lemon and cream pie. It was all very, very good. We all think good food is one of the benefits of being a culturally rich-mixed family.
Each of the children, even though they are only between three and four years old, loved being interviewed about what they liked about Easter, Christmas and Eid. They just take these events as celebrations and a time to be together as a family, they don't see that some of them are muslim and some of them are christian.
This year the children were all ready for the egg and spoon race, though I must admit there was a fair bit of cheating.
They all beat the dads in the parent and child race.
Before we waved goodbye to BBC Radio 4 and went on a long country walk through the village we had a family photo. As you might have noticed there'll be an extra Little One at next year's gathering (my Sister-in-law Abeda is a pregnant with her second and Nazia and Fateha already have two children each). I wore my Poppy England Forest dress and new yellow cardigan again but followed LO's example and wore my new yellow petticoat for the first time too – I now want to wear a petticoat everyday – they're such fun.
On Tuesday Takbir went back to London but LO and I stayed on in the countryside for some clean living. LO and I had a wonderful afternoon exploring one of my favourite places Shugborough Hall. I was hoping to take a few days off; I haven't had a proper day off since New Year's Day.
My mum brought me and LO breakfast in bed on Wednesday morning (she really is the best mum ever) and LO had picked me this lovely flower to have on my bedside table. It's wonderful to feel Spring is really here, such a celebration of new beginnings and family life.
I usually sling a few snacks into the nearest bag when LO are out and about in London but Sarah whipped up in no time a lovely picnic lunch. She put this basket onto the back seat of her car and took us to the playground at Weston for a picnic lunch and running about in the spring sunshine.
It was so lovely to do a bit of mother-daughter shopping at Trentham Gardens. Last year we bought LO a mini doll for her birthday from Natures Purest Trentham. It was so nice to find a mixed race doll and we got her the Papa and Mama & Baby dolls for Christmas. She asked if Mimi could have a sister and now her little World Family will be complete with brother Felix and sister Flora to add to her dolls for her next birthday.
One of my cousin's has a new baby, who we also sent some blue and white star Faye & Lou muslins. But Sarah being the loving auntie she is, couldn't resist buying the new baby a bamboo blanket from Zoe at Natures Purest too. We were given one for LO when she was a baby and it really is so soft and snuggly. Another of my cousin's is expecting – by the end of the year there will be three new babies in the family.
My day off was short-lived as we got a phone call from HarperCollins to tell us the final proofs for Happy Baby, Happy Family were ready. So the rest of the week was spent going through them. Though it's terribly exciting to see the book come together; it's off to the printers next week. Less than eight weeks to go now (4 June 2015) and a bit like waiting for a new arrival.
More excitment on Friday when we realised Sarah's advice on gentle parenting was featured in this month's Gurgle Magazine.
And our top games to play with new babies are in this month's Mother & Baby magazine. So, it's been a great week. Not without its dramas (the washing machine broke) but it's definitely been a case of Eat, Pray, Love this week for our whole family.
Amy Beeson is working mum. She runs Wordsby Communications and co-writes books with Sarah Beeson MBE. With her husband, writer Takbir Uddin she is part of the Interfaith Marriage Network that supports couples and families who are in interfaith relationships.
(LO was given her boat dress by Poppy England but every other product mentioned in this article we paid for).